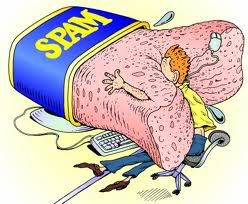 Do you ever have one of those days when you just don't know what to blog about? You are literally drawing a blank, and may even think, "Have I lost my blogger's 'Mojo'?" I felt that way this morning. Perhaps it is because the kids are back in school and I am once again forced to get up early. And then, I was given a gift! A gift of...spam??? Spam, the gift that keeps on giving! And giving!
I turned on my computer, as I normally do in the morning and as usual I checked my email. And there it was, another comment for little old me! Yay! And then I opened it up. It was spam! You know the kind, "Hi, I'm new here! I love your site." url url url some kind of body enhancer (enlarger) url url url. I also get stuff in foreign languages. Like Chinese lettering or something of that sort. They could be telling me jump off a bridge for all I know! It just frustrates me. I delete it. It comes back. Spam is like flies. You think you got them all and then two more show up!
So does this mean I will have a weekly gripe about a pet peeve? I don't know. I mean it's nice to get it off your chest, but I don't want to be a total grouch! But then, Oscar had it going on!