I am participating in the regular Friday Meme Friday Confessional Hosted by
Mamarazzi..
.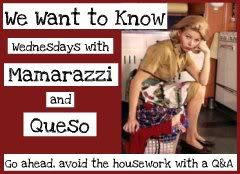 I confess...
I am a huge bit of a nerd. We rented RANGO on demand the other day. The kids loved it. A confession within a confession--Ryan can be hard to watch a movie with and a total blast. This one he was the ladder. His reactions to things were classic. I digress. Whether or not you have seen this movie is not important, there is a snake...Jake the Snake. He's a bad dude. Real bad. And his voice was bugging me. Now I have hearing issues, but if I hear an actor that sounds familiar I am hitting IMDB before the next line is uttered. He sounded like Davey Jones from the Pirates movies. Minus the English accent. Jake had a Southern Drawl. But there was something about his voice and the delivery and I just couldn't let it go. So I went looking. And sure enough. It was indeed the same actor. See. Nerd.
I confess...
I had a chocolate shake from Jack -in-the-Box last night. But in my defense, I think I earned it. What a day! What a couple of days! Getting my two daughters registered for school has been (and continues to be a hoop jumping--red tape maneuvering nightmare) Right now I have Kristin all set for school. Finally! Yippe. And for $26 less than I anticipated. She is raring to go! Emily is nearly there. And that my friends, is another blog for another day! Ryan is done. He is easy. First grade yo! I just need to get the phone call to see who his teacher will be. Should get that call today. And I think I have about two more laps for Emily. We will get there. School starts on the 11th. We will make it.
I confess...
I have a lot that needs to be done around the house. But instead I am going to go and play with my friend, Emmy! And well our kids get to play too. We planned this a while ago. And hey, I deserve it. The mess isn't going to suddenly clean itself. But wouldn't that be so cool if it did? And the laundry will wait for me to put it away.
I confess...
I want to sleep for about 30 hours. Sometimes I think I will go to bed at 10. And then I go to bed at midnight as usual.
I confess...
It has been a very long week. It feels more like a month. I am ready for it to be over.
I confess....
I used the wrong button up there...and I didn't even know it. I was that tired...this is the button for confessional....
What's weighing down on your shoulders? Link up with
Mamarazzi.