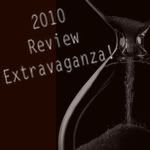 It is week three of the 2010 Review Extravaganza. And that means we are now up to July-September! If you haven't played along yet, there is no time like the present to jump in and start sharing.
Some of my favorite posts from July are (in no particular order):
One time it was really cold...in JULY!
And another time it was crowded.
We went to a huge park with this fabulous art
We also had a mini family reunion. And when I say mini, I really mean it. My uncle's kids were all in town for a visit at the same so we all got together.
My Aunt and Uncle and their kids.
We also went to the mountains for the day.
Before school started we spent the weekend with Emmy and her family in the high desert of CA for a last hurrah's to
summer vacation!
I hit another milestone in my weight loss journey. I made it to the 20 pound mark!
Rich had shoulder surgery.
September is a big month in our house. We have two birthdays and an anniversary to celebrate!
The first birthday....
Guess whose it was.
We went to an Air Force Base and Museum