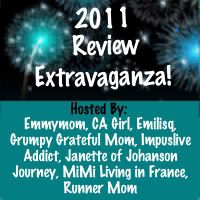 It's the final wrap for the 2011 Review Extravaganza! Hosted by yours truly,
EmmyMom
,
Emilisq
,
Impulsive Addict
,
Janette of Johanson Journey
,
Mimi Living in France
, and
Runner Mom.
Be sure to snag that button and mention each of us when you link your post.
And now....
October....
It was Ryan's
birthday
, but we also had a
TRIPLE BIRTHDAY BASH!
I was featured on
Shell's
Blog for her
Things They Can't Say!
It was definitely a SQEEEE kind of moment!
Kristin was in The Hobbit at school...
She was an Elf
Halloween, where my kids totally got into character and scored big time in the candy dept!
November...
We had some proud academic moments for the kids in
November.
Plus, Kristin had also scored a 3.0 for the semester! Which we found out AFTER this particular post been written.
Thanksgiving of course came along...and I named my big juicy bird...
Bubba! He was as good as he looks!
December...
I talked about "
The Signs of Weak Mind
" I also got very busy.... like most of us did. And I got sick too. Like most of us did.
That night, I literally almost cried myself to sleep. Happily I am well again!
And more importantly, I was healthy in time for
Christmas!
And after all the presents were unwrapped, I shared how I got my
craft on.
And that was our year in review! I can hardly wait to see what you all have to say!