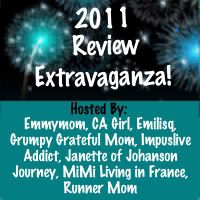 It is week two of The Review Extravaganza 2011!! To be reminded of the rules just go
here.
And remember you get an extra point for following anyone of the lovely hosts: MOI!
Emmy
,
Grumpy Grateful Mom
,
Mimi,
Runner Mom
,
Em of Emilisq
,
Impulsive Addict
, and
Janette of the Johanson Journey
. Remember to link your post and not your blog. This week it is April, May and June!!!
My favorite question in April was about Easter Eggs...or
Easter Spheres!
Emmy and I got to meet fellow blogger, Glamazon in real life!! It was most awesome!
In May I got my iPhone! I was in Geek Heaven! My favorite question was tied directly into a
gripe!
My niece had her baby shower.
In June we had not one, not two BUT THREE graduations! It will be the only time it ever happens!
Ryan graduated from Kindergarten. Kristin graduated from middle school. And Emily graduated from Elementary. It was a crazy busy week for us!
My favorite question for June was about
brain damage
. Is it ours or our kids? You decide!
And last but never least we celebrated Emily's birthday!!!