It's back to school with Alphabe-Thursday over at
Jenny's
place. And today the letter is J. J just so happens to be the letter of the week in Ryan's class. J is his middle initial and mine. Hey, and J is my dad's middle initial too! And I have a nephew named Jason.
Ryan has a book about the letter J. It goes like this:
The Jeep has wheels.
The Jet has wings.
The Jacket has pockets.
The jungle has animals.
The jar has jellybeans. How many?
Each page has a picture to go with it. He rarely colors them, but he does circle the letter as I am sure he is instructed to do.
Another thing that starts with J is jewelry. No reason. Just thought I'd throw that out there!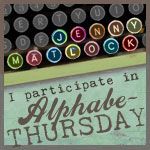 ~~~~~~~~~~~~~~~~~~~~~~~~~~~~~~~~~~~~~~~~~~~~~~~~~~~~~
And now back to two truths and a lie! Do you remember what mine were? It was two weeks ago. I said: I will not put cranberry sauce on my turkey. Candied yams are my favorite. And I will gorge myself on rolls.
Well I could totally gorge myself on rolls since I LOVE them. My moms candied yams are the bomb! And well cranberry sauce on turkey? Really? The truth is... I refused until this year to have cranberry sauce on my turkey. I tried it...it was cran-raspberry actually. And it was tasty. The rolls....oh my gosh those rolls. Sooo good! I could have, but I wasn't going to, and I didn't. Yams...my moms...are perhaps my favorite. Candied yams are either hated or loved. But if you don't like them, it's because you haven't tried hers! Yummy. Ever since I was a kid it was my favorite.
If I had the means I would:
Get a nose job
Go to some place tropical
Get a butt lift