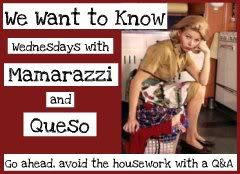 This is fun Meme hosted by
Mamarazzi
and
Queso.
If you have never read either one of these ladies blogs be sure and check them out. And now for the questions of the week....
1. What would you do with an extra $1000 a month?

Well my first thought is a sigh of relief. Breathing room. I might look into extra curricular activities for the kids. Get braces for the girls. I know the braces sounds boring, but they need them. I would make room for some play time. Play time is important.
2. What category of blogger do you think best fall under?

I think it is called "Life Blogger." I just want to be funny and make people laugh. If you laugh when you have read my blog then I have done my job.
3. What is your go to solution when you are having a bad hair day?

This depends on how bad the hair is. If I am being really cranky chocolate is the only thing that will calm the savage beast. But really, the truth is my mom and I like to use yahoo instant messenger to chat throughout the day.
It has audibles to play with one of which is a screaming lady. We use her to alert the other that we are mad about something and then we vent away. Or we send a vent email.
4. If you were a crayon what color would you be?

Blue. It gets used a lot right? I don't want to be the one in the corner that never gets used.
5. They say love is in the little things. What is a little thing someone does to show you love?

Hmmmm....let me think now.
When my kids write me love notes in church or draw me little pictures. When my husband lets me sleep in or carries the laundry upstairs.