The dancers are dancing three dances tonight. THREE! Because two in one night wasn't challenging enough. On Friday during rehearsals, Kym Johnson sustained a painful and scary injury.
They took her to the hospital mostly for precaution. As you can see, she was able to dance. It was awful to watch though.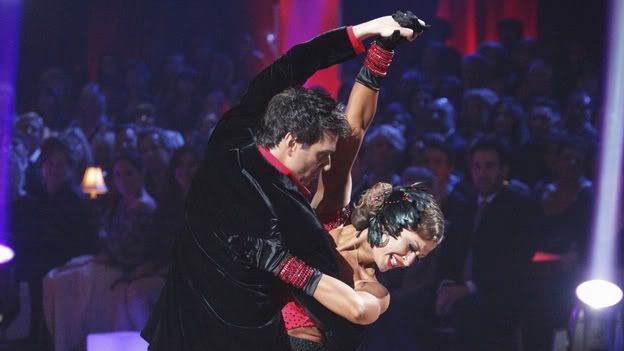 Ralph Macchio and Karina Smirnoff 1-800-868-3408
Ralph and Karina's first dance is the Argentine Tango. I like this Tango better than the traditional Tango. If it is danced right, you can easily be swept up in the intensity of it. Also, lifts are allowed. Ralph and Karina did a a great job. I liked their intensity.
Len said it lacked emotion and it didn't smolder. He said he liked the set up however, and that over all they did a good job.
Bruno told him he needed to bring out the Latin Lover; that he was too"stern."
Carrie Ann agreed with Bruno saying that Ralph needed to connect his feet and face to the music.
Scores:
Carrie Ann: 8
Len: 9
Bruno: 8
Total: 25
Kirstie Alley Maks Chmerkoskiy 1-800-868-3411
Kirstie and Maks' first dance is the Viennese Waltz. They are at each others throats during rehearsal. It's nothing unusual this late in the game, and some how despite words and frustration, they dance beautifully and are friends again.
Bruno said that Kirstie had set sail; beuaitful like a majectistic clipper riding the waves holding the American flag.
Carrie Ann said that every time she goes on the stage she does something magical. "You do something different every time."
Len told her he thought she would be a Klingon, but she wasn't. She was great! A Kilngon, Len?
Scores:
Carrie Ann: 9
Len: 9
Bruno: 9
Total: 27
Chelsea Kane and Mark Ballas 1-800-868-3401
Their Argentine Tango was good. I know she will be in the finals.
Carrie Ann disagrees pointing out that these are the semi finals and they will be very picky. She said that they were not up to par, and that it wasn't as dymanic.
Len said her legs lacked fluidity. When this was said, of course booing ensued. Len held up a hand and simply said, "No grudge against the judge." and then finished saying the performance was other wise clean and precise.
Bruno said he was fascinated and intrigued. "They didn't get it! I got it!"
Carrie Ann: 9
Len: 9
bruno: 10
Total: 28
Hines Ward and
Hines and Kym's Argentine Tango was in a word: HOT. After it was over both Kym and Hines were teary-eyed.
Len said, "That is a tango!!!"
Bruno had this to say, "The battle of wills between a man and a woman. Whose going to be the dominate one? You never want it to end!"
Carrie Ann was barely able to speak at first. She managed to choke out, "Wow. Glad you are okay. That was a serious injury." She on to say how impressed she was with Hines for the way he supported her. "The dance was stunning!"
Scores:
Carrie Ann: 10
Len: 10
Bruno: 10
Total: 30 WHOOP!
Ralph wore a padded booty for their Salsa! How funny is that? And how awesome is he? Len said it was too wild, Bruno said it was "badass" and Carrie Ann said that was the most fun she has ever seen him have.
Scores:
Carrie Ann: 8
Len: 7
Bruno: 8
Total: 23/48/60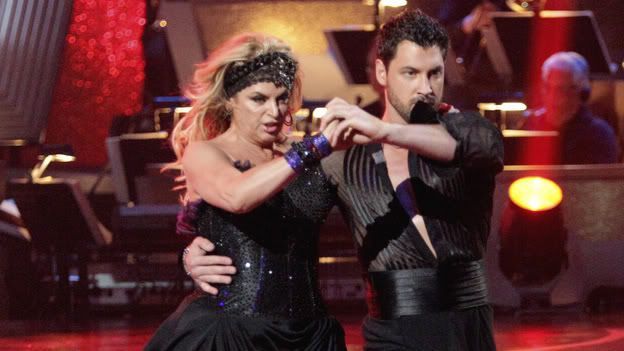 Kirstie and Maks dance the Paso Doble for dance #2. And they are on fire! Bruno said it was "Dance of Trek 12: Wrath of Kirstie, Carrie Ann dubbed her the Queen of the Paso and Len said she had two of the toughest dances and she did fabulous.
Scores:CA: 9
Len: 9
Bruno: 9
Total: 27/54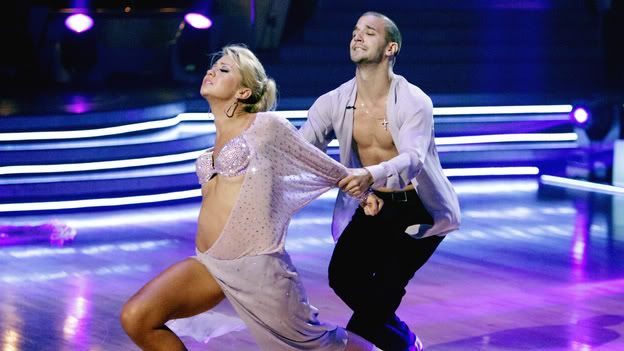 Mark and Chelsea's Rumba was smoking hot. She is definitely going to the finals. Carrie Ann exclaimed, "Now that's what I'm talking about!" Len called it very expressive and told Chelsea that she had achieved her potential. Bruno said it was romantic and erotic and perfectly pitched.
Scores:
Carrie Ann: 10
Len: 10
Bruno: 10
Total: 30/58
Kym and Hines' Salsa was lots of fun, but the other dance was superior. Len loved it. Bruno called Hines a beautiful man and said he was "supremely watchable." Carrie Ann noted the joy she sees every time he dances.
Scores:
CA: 10
Len: 10
bruno: 10
Total: 30/60
Next it is "The Winner Takes All" Cha Cha. It's Ralph and Karina vs. Hines and Kym. And then Chelsea and Mark vs. Kirstie and Maks. Then the two remaining couples compete for 15 bonus points from the judges.
Hines and Kym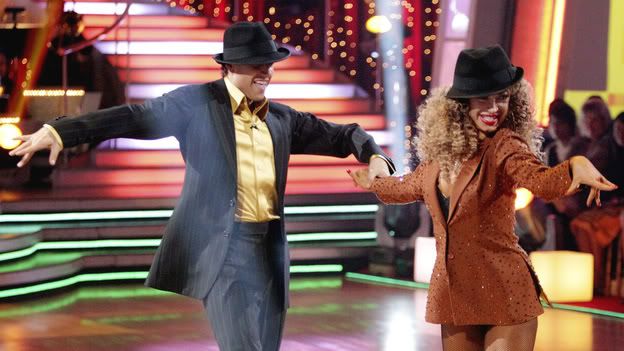 Ralph and Karina
Judges Pick for round one: Hines and Kym
Kirstie and Maks
Chelsea and Mark
Judges pick for the bonus points: Mark and Chelsea. In my humble opinion, I think the judges knew who they were picking before they saw the dances.
Going home: Ralph and Karina. Oh my heart is breaking. He said he had the time of his life and that their first dance, The Fox Trot was the most incredible experience he has ever had. See you next week, Ralph! Will you do the crane technique anyway?
Pictures property of
ABC