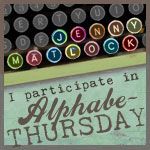 It is Thursday and I am playing along with
Jenny Matlock
and her Alphabae-Thursday meme. It's lots of fun, and she reads all the posts. This week's letter is V. And I thought of the word "very." How often do we use that word? Has it lost its meaning? Allow me to demonstrate.
Yesterday was a
very
busy day for me. I had a chaotic morning, but my morning did not
suck.
I got a hair cut. My hairdresser found a white hair. It was curly. How weird is that? It is
very
weird. I had an appointment with the school in the afternoon. An IEP meeting. We are changing some services for Emily and we are
very
hopeful she will benefit from these changes.
But I do not want to bore you with the very tedious details of my day. Instead, I would like to share some pictures that I am very proud of!
We went to Tom's Farm on Saturday. The kids rode rides, we shot things at the "shooting" range and saw a magic show.
He was very excited to drive this tractor. Yes he really drove it. Of course they go very slow. He got the hang of it right away.
We even asked him if he wanted to drive us home. He's a very smart boy. He said no, because he didn't have a license.
We did some very serious shooting
See what I mean serious.
Emily did a very good job
Kristin seemed very comfortable. Very.
Ryan got some very helpful expert coaching
And soon he was on his own.
All in all it was a whole lot of fun. We were pooped. Very. So is the word very overused?