Just like the Energizer Bunny, it seems I keep going and going and going. Let's take a look at my week so far, shall we?
Monday was an easier day: Physical Therapy, home, shower, pick up Ryan from school, lunch, pick up the girls from school. Then to the store to pick up some things for dinner. See, an easy day.
Tuesday was Weight Watchers, doctor appointment, pick up the boy, lunch, Walmart, post office, pick up the girls from school. I was gone almost the whole time the kids were at school here.
Wednesday was physical therapy, shower, pick up the boy, lunch at my moms. Pick up the girls. Zumba!!!
Each day includes the usual, homework, dinner and dishes and trying to fit in laundry and other chores. It isn't any wonder after all my going that when I get a day where I don't have to go at all that I choose to sit. So here I sit. Ooops, I have to go...take a shower! I guess I am still going after all.
How much going do you do?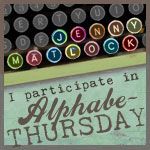 *****************************************************************
I am so totally geeking about going to Part One of HP and the Deathly Hollows. So much so, that I put a HP background on my blog. It was cool. But to find a color of text that was easy on the eyes against its black background was not happening. So I opted for a fall choice instead.
And I am also going to see it in IMAX. It's the last in the series. Why not go out with a bang? Besides, it is supposed to be amazing in IMAX.
But wear a costume. Nah. Maybe if I was 16 or 17, but I'll pass.
Now I am going to ride on the coattails of Drama Mama and see if you can figure out my heritage....
1. German
2. Russian
3. Swedish