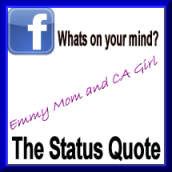 Please save The Status Quote!!! It's the monthly meme hosted by myself and
Emmy
. You know, the one where you collect the funny, odd and random posts and tweets from Facebook and Twitter or heck any other social network you happen to be a part of! Just cut and paste them and save them. It's probably the easiest post ever. Add some commentary and viola you have a fabulous post! The linky stays open for a week. So you have time to participate yet! Let's get started!
My husband has been kneading and massaging fondant for the past hour. I wish he would spend that much time on me. Ha!
Would he keep it as JUST the massage?
When you have small children or just regular children, you shouldn't be surprised by anything.
Just after reading this one, Rich got up from the couch with a straw wrapper stuck to his butt.
The Chipmunks singing Justin Bieber songs: this is what my children are torturing me with right now. Send earplugs please.
Proof that the devil exists.
Look people, it's "Footloose", not "Footlose"! Unless, of course, you are referring to the 1985 film in which Kevin Bacon gets gangrene.
Mow her down girl!
Daily fishy joke: What side of the fish has the most scales??