What better way to participate in Alphabe-Thursday than to talk about "I."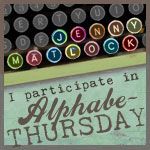 *********************************************
When we moved from VA to CA in 2007, we took a huge road trip in the process. It was long and at times grueling. Let's face it, after all while McDonald's, Jack in the Box and Wendy's all taste the same. On this journey we went to Ohio, where I got to see my BFFL. I had not seen her in 20 years. It was wonderful. We also visited family all along the way. One stop was in Alabama, where we visited Rich's aunt. But for Wyoming...nope...I have never even passed through.
1. My favorite Thanksgiving dish is yams
2. I will not eat cranberries
3. I always gorge myself on the rolls.
Gooble Gobble!!!
Powered by Linky Tools
Click here
to enter your link and view this Linky Tools list...