Headaches are mean.
Headaches are cruel.
Especially when headaches are MIGRAINES!
A headache is one thing, but these migraines are deadly on some days. I am sure this last one was out to get me. Despite the headache of death, I went to the Super Wally. Super Wally is about 10 or 12 miles...maybe more...from home. I went to Super Wally because I thought that would help.
Speaking of headaches....my van is doing something weird. I thought it was the shocks, my mom said it might the bushings the mechanic I spoke with on the phone thinks the car is too young and not enough mileage for that. Though he couldn't make a diagnosis over the phone. For that, I have to bring the car in and pay $45.
Headaches come in all forms!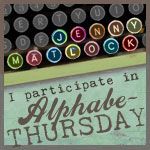 *********************************************************
I am what I like to call...Heinz 57 since I am so full of variety. My husband enjoys teasing me that I have messed up his perfect bloodlines. I merely added flavor. And those flavors are predominately German and English. I also have sprinklings of Dutch, Welsh, and Swedish. But there is no Russian in these veins.
1. I have been to Ohio
2. I have been to Wyoming
3. I have been to Alabama
Link up and play both games!