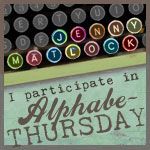 Since last week was the letter Z, Jenny decided to have Alphabet soup today! And the letter that came up in my spoon today is:
The Letter J
I do not remember how I came to know
Jenny.
If it was through a fellow blogger or what. But I am glad I know her. She is funny, sweet, and a fabulous writer! She also is a
new age woman!
You should check our her
Story Time Tuesday!
If you haven't been to her site go and drop by, I know she would love to have you over. Jenny, I am glad I met you and I am glad we are friends! ((hugs))
*****************************************************************
Are you ready for last weeks facts and fiction? Do you remember what you guessed? It's okay if you don't. I had to go and look back to see what it was I told you! LOL
1. I have been a helicopter: False. I have never been on one. Funny thing, I actually knew someone who flew them. Why did I not ask him to take me up in it!? What an adventure that would have been!
2. I have been on a ship: True. My husband is a retired Coastie. He was stationed on a 718 foot cutter. This one in fact...
Coast Guard Cutter Chase
Rich was stationed on the CG Cutter Chase when we met. And one of the perks of being a dependent/friend/girlfriend, is that you were treated to a special day cruise. I was fortunate enough to go on two of these cruises. I only remember one since the first one I was drugged up on Dramamine!
3. I have been on a twin prop airplane. I have indeed. In 1997 when my sil graduated from college we flew down to San Antonio for the graduation and family get together. For whatever reason, we had to take one of those miserable planes from San Antonio to Dallas before heading back home to N.California. It might have had 10 passengers and it did have ONE flight attendant. I hated every gut wrenching, bumping, nauseating moment of it!
Now for some party facts and fiction!
1. I was the center of attention at a cast party
2. I have been toilet papering
3. I played spin the bottle
*******************************************************
What's every one talking about? Come on and see!