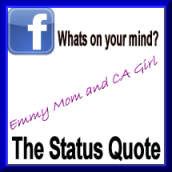 A Prius just tried to race me from a stop sign. I totally had it for the 1st 100 feet, but i can only walk so fast. ;-)
He must have been pedaling really fast!
They just don't make Hello Kitty nail polish like they used to.
I know, right!
If you wish to strike up a conversation in the men's room, I can cope. It's not my favorite thing, but I'll play along. However, once you close the stall door, all conversation is OVER. At that point all you are allowed to say is "Please call for help" and even then I'd rather not hear about it.
How about "Can you spare a square?" or is that too personal?
Now it is your turn to link up! It's lots of fun and we would love to see what your friends are saying. Just remember no names or cities.