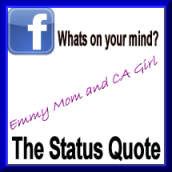 The Status Quote!!! I love picking random status updates from friends and posting them here. Of course, I never use names or locations. If you haven't played before, it's real easy just collect status updates from your friends and post them up. Then come back and link up with me and
EmmyMom!
If you wonder we when we do it. It's always the second Tuesday of the month.
The boss's first question of the year--how do I get this file from the email and put in on my desk top?
And he is the boss how?
SQUIRREL!
Hmmmm....should it be called Yesterland? Or...Blast from the Past?
Yes I did just see that mom pick up the chocolate her son dropped on the ground and give it back to him.
Sitting in the airport listening to a couple dudes talking about how expensive condoms are. I hold up my iPad to show an adorable picture of my daughter at the zoo and say, "You guys know what's more expensive than condoms?"
And a lot more work too.
No, I bought them out. ;)
"I am glad that we pay $60 for C to play indoor soccer...when all he does is stand around and pick his nose...no more sports for that kid."
Who knew nose picking would become a new sport!